---
MANAGE ALL YOUR WORDPRESS SITES FROM ONE DASHBOARD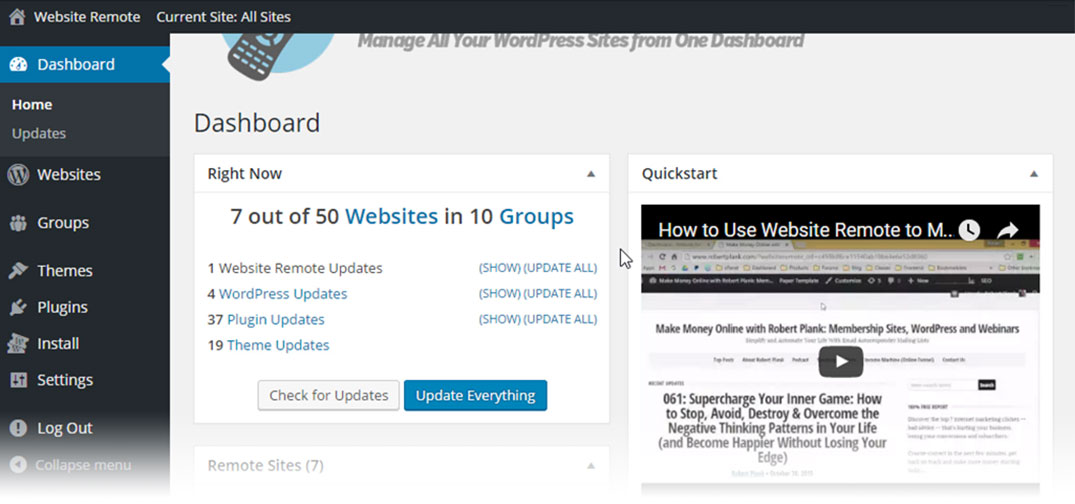 One Master Login
You no longer have to remember WordPress URLs or logins.
Browse to the site you want to manage, and without entering any username or password, you'll get full access to your remote site.
---
Manage & Update Themes
Keep everything about your WordPress sites (not just WordPress itself and plugins) up to date.
---
All-in-One Dashboard
Control multiple sites from a simple & powerful control panel.
Easily compare the WordPress versions and installed plugins across all the websites you manage and own.
---
One Click Updates
Update all your WordPress sites to the latest version all at once, or pick & choose individual sites to update.
You'll never have to worry about out of date WordPress sites again when you use Website Remote.
---
Manage & Update Plugins

View and maintain the plugins across your sites to make sure your WordPress installations are fast and secure.
---
Developer License Included
Manage your live websites, test websites, or even client websites.
Maintain and manage WordPress sites you own, or get paid to manage sites for others.
A SINGLE ADMIN PANEL TO
UPDATE & MAINTAIN YOUR WORDPRESS SITES
---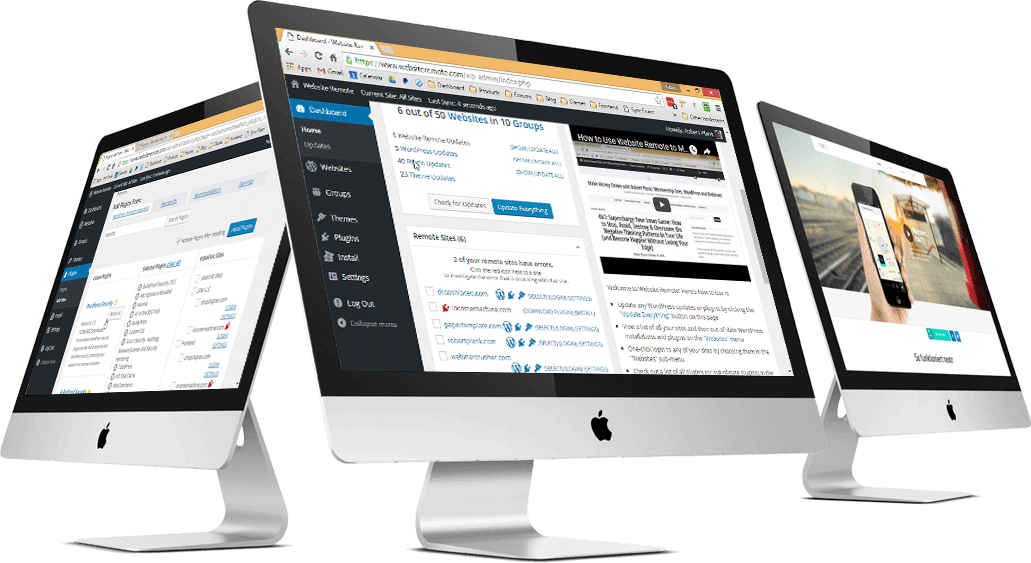 FREQUENTLY ASKED QUESTIONS
What Is Website Remote?
It's an all-in-one dashboard that allows you to manage all of your WordPress sites across all servers in a single location.
---
Is Website Remote Secure?
Our member's area is SSL (HTTPS) compliant. No usernames or passwords of any of your sites are stored on our servers.
---
What Can I Do With Website Remote?
View and update versions of WordPress across all your sites. Update or add plugins. Change themes. Login with a single click.
---
Does Website Remote Leave A Footprint On My Site?
Website Remote does not affect the load time of your websites and there is no trace to the outside world that you use the service.
50 Sites
$17
Per Month
Immediate Access
Developer License
Support & Upgrades
100 Sites
Most Popular!
$27
Per Month
Immediate Access
Developer License
Support & Upgrades
Unlimited Sites
$47
Per Month
Immediate Access
Developer License
Support & Upgrades